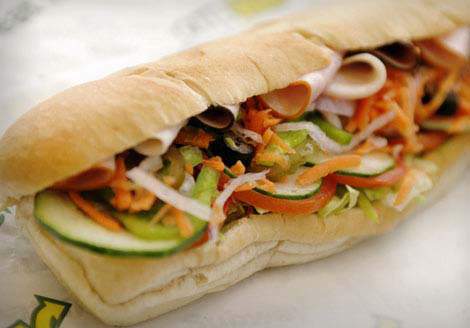 Haven't we discussed the
importance of customer service
to a brand? Have we not said that it can be the unique selling point in the sea of marketing and PR "propoganda"?
Sigh.
Subway.
I could not cook lunch last night and the rains usually come down in a gush just around lunchtime everyday, so I knew that getting lunch would be an ordeal. This being said, I went to the nearest Subway to get a salad. Let me just say right now, I hate Subway. Their service is atrocious. The
sub
is clearly for
sub
standard and if anywhere else was open at 6.30, without me having to get back into my car and lose my parking spot. I would have been there.Their winning points are that they open early and they sell lunch items during the breakfast session, so I could get my salad, put it in the fridge and save myself from starvation at noon, when it is sure to be pouring and flooding. But oh, Subway...how you annoy me. It's my own fault but I can still rant about it.
1. It never ceases to amaze me that the Subway lines are not only long, but slow moving. Busy people buy breakfast and I have never seen an empty Subway. So one would think that between 6.30 - 9.00, which is a heavy traffic time, one would load up on the staff behind the counter. One would think!
2. If your sandwich artist only started today, is it wise to put her on the assembly line during rush hour? I don't want her learning the ropes when I am trying to get back to my desk before 8am. Put her on the cash register or on the toaster. Girlfriend was clueless and painfully slow.
3. And this is where it directly affects me. If you're selling salads, shouldn't you have salad dressings? And worse yet, if you know you DON'T have salad dressing, shouldn't you tell the customers ordering the salads that you don't have any BEFORE they order, so they can then decide whether they will take the salad anyway?
I...do not eat salad without some kinda salad dressing!!!
I am not a huge fan of salads but give me a little bit of dressing and I will eat it willingly. So imagine my vexation, after 20 mins of standing waiting for the salad, having her put the wrong stuff on it, and then when I ask for my dressing, she rolls her eyes at me and tells me there is none. I don't think I needed to be asking for my dressing. You should have been asking me or advising me that there was none. She looked at me. I looked at her.
(crickets)
I was not a pleased customer. But it was too early in the morning for me to do the "disgruntled customer thing", so I then asked the cashier whether they were getting any dressings later in the day. She tells me "Hopefully". So, trying to help them out now, because I am annoyed beyond, but really trying to hold it in, and I tell her, if the weather holds, I would just take the short walk back to get my dressing. I thought I was being generous!
This was the answer:
"Well...hmmm....ummmm...yeah.... you could try that, but that is if anyone remembers you"
(crickets)
The response should have been
"Miss, I am so so so sorry for the inconvenience and if you wish to collect a pack of dressing later, I will put it aside for you. Let me put a note on your receipt so even if I am not at the counter, someone would be able to assist you. Again, so sorry for the inconvenience. Is there any dressing you prefer?"
Oh no...I have to HOPE someone remembers me. Thanks Subway. Thanks. And you want me to come back right? The sad thing is, I honestly don't think they care if I come back or not. They don't look at it as a lost customer, a bad reputation. It's just another miserable customer they got rid of. Super job, Subway!
I will be back tomorrow with regular posting.